Guides - Pricing
Having bespoke curtains or Roman blinds made specifically for your windows can really make the difference to your room, giving you a unique product that fits perfectly with your style and meets your requirements exactly. This type of window dressing as with any made to measure product is an investment and takes careful consideration on behalf of the client. In turn you benefit from our experience, expertise and high level of customer service.
We at Soft Options want to help you make the right choice when considering your window dressing, with that in mind we've summarised a few jobs below to give you a rough idea of the costs involved as well as some options that can either increase or decrease the price some what.
All examples below are accurate as of September 2020. The prices are specific to the individual job and are only intended to be used here as a guide, giving you a rough idea of the price you can expect to be quoted. Obviously the price will be affected by size of your window.
We only use high quality components in our products this includes Cameron Fuller poles, Evans linings, Silent Gliss tracking and Evans BSXL Roman blind tracking. Fabric prices vary from £15(£30 for voiles) to over £100 per meter. All prices include measuring, delivery, fitting & VAT.
Examples
Window 1: Pencil pleat lined curtains on a track
Track: £65
Fabric: Studio G @ £15/m, this window required 8.5 metres
Making, linings, sundries: £298.50
Total: £491
Options that will increase the price: more expensive fabric, interlining, different heading
Options that will decrease the price: use an existing track, this is quite a simple window dressing, there is little else that can be done to lower the price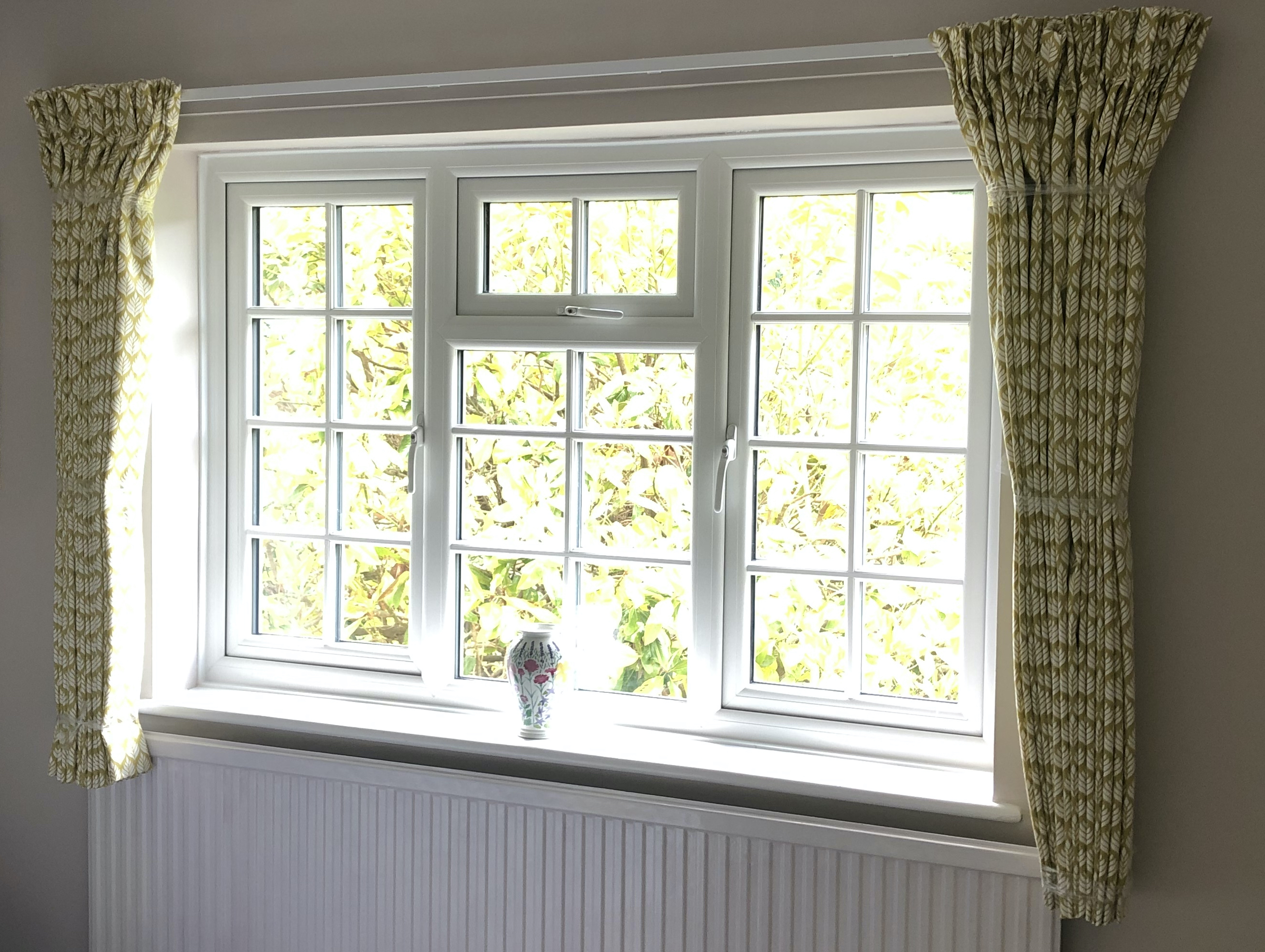 Window 2: Waterfall Roman blind with returns on a track
Fabric: Voyage @ £52/m, this blind needed 3.5m
Making including track and all sundries: £305
Total: £487
Options that will increase the price: more expensive fabric, interlining, different heading
Options that will decrease the price: use an existing track, this is quite a simple window dressing, there is little else that can be done to lower the price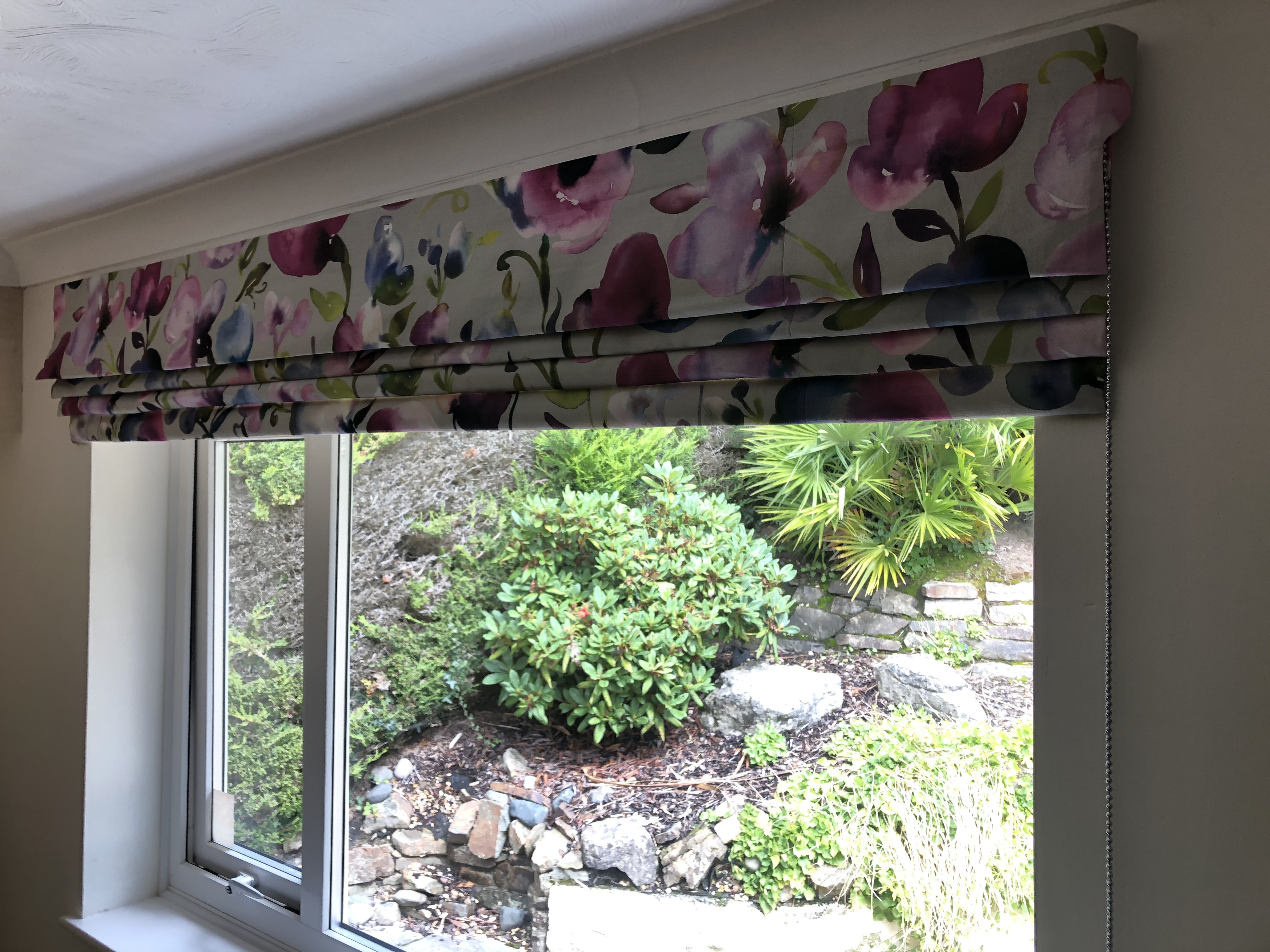 Window 3: Shaped window, blackout lined static curtains with hand made piped tie backs
Fabric: Essente @ £25/m, this window required 12m
Making, linings and batons: £368
Total: £668
Options that will increase the price: more expensive fabric, interlining, different heading
Options that will decrease the price: use an existing track, this is quite a simple window dressing, there is little else that can be done to lower the price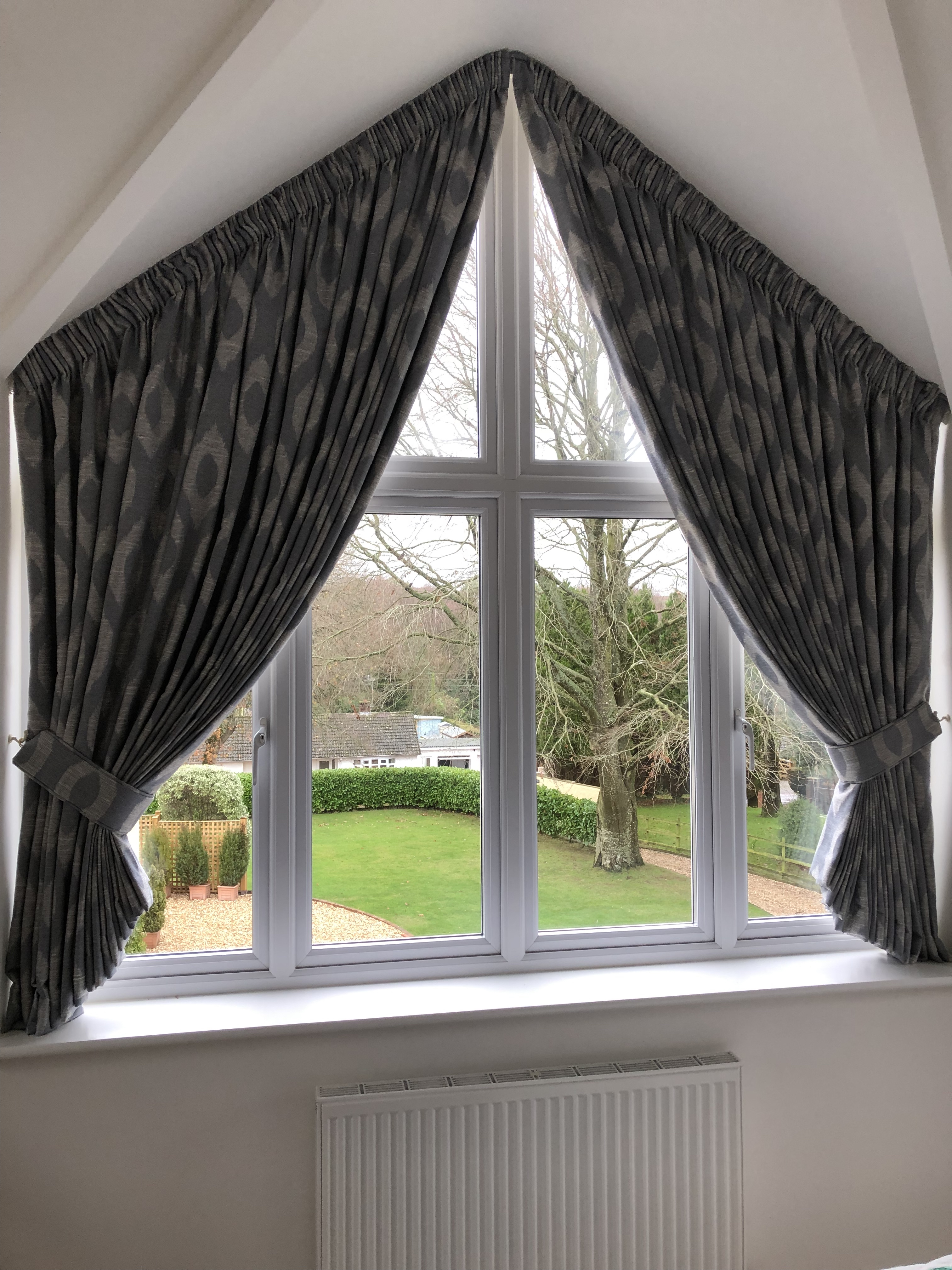 Window 4: Lined curtains on a wave heading and track
Track: £346
Fabric: Prestigious Textiles @ £20/m, this job used 12m
Making and sundries: £452
Total: £1038
Options that will increase the price: more expensive fabric, interlining, different heading
Options that will decrease the price: use an existing track, this is quite a simple window dressing, there is little else that can be done to lower the price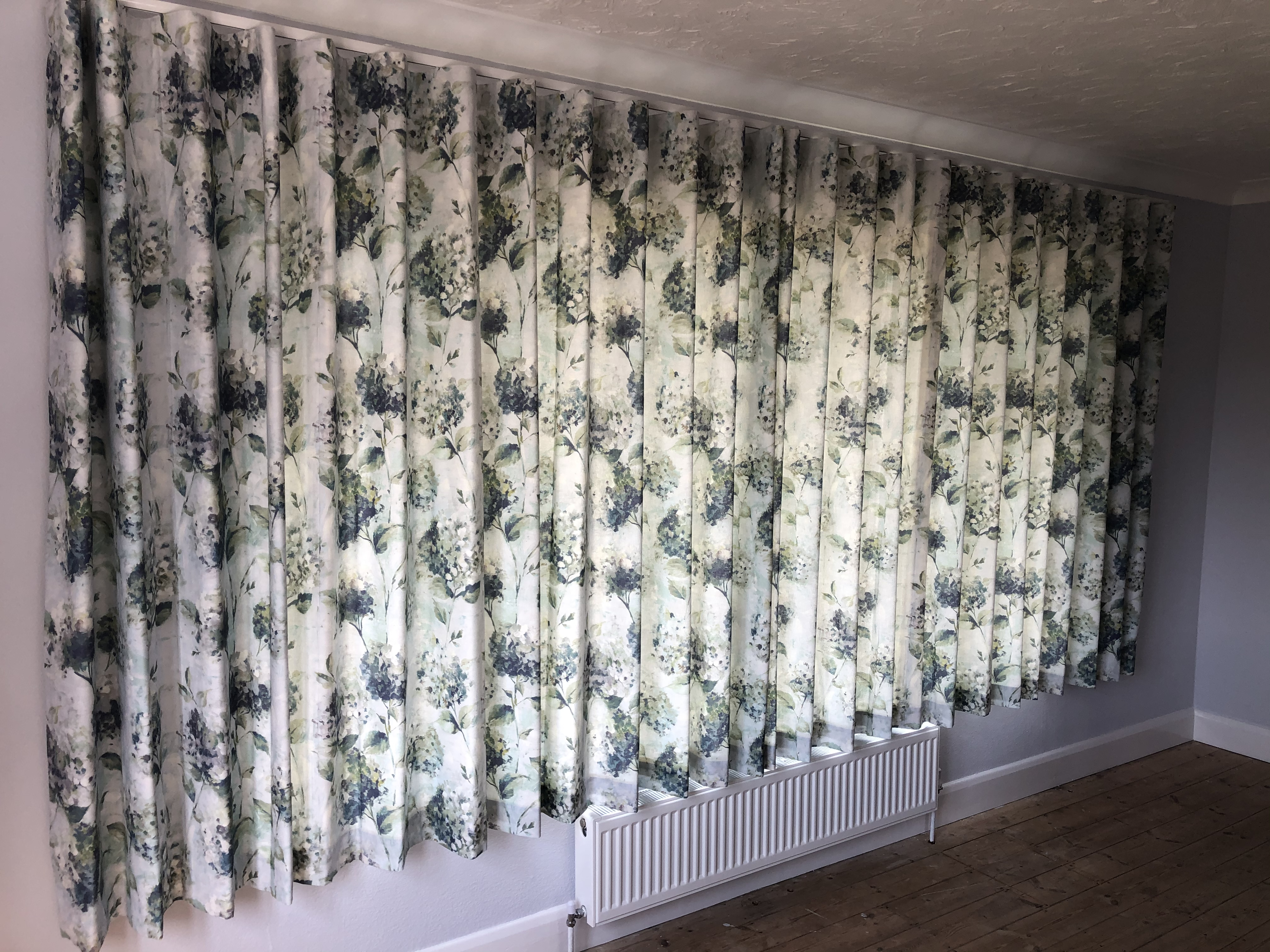 Window 5: Hand sewn interlined double pinch pleat curtains on a pole
Pole: £129
Fabric: Clarke And Clarke @ £37 /m, this job required 10m
Making and sundries: £432.30
Total: £931
Options that will increase the price: more expensive fabric, interlining, different heading
Options that will decrease the price: use an existing track, this is quite a simple window dressing, there is little else that can be done to lower the price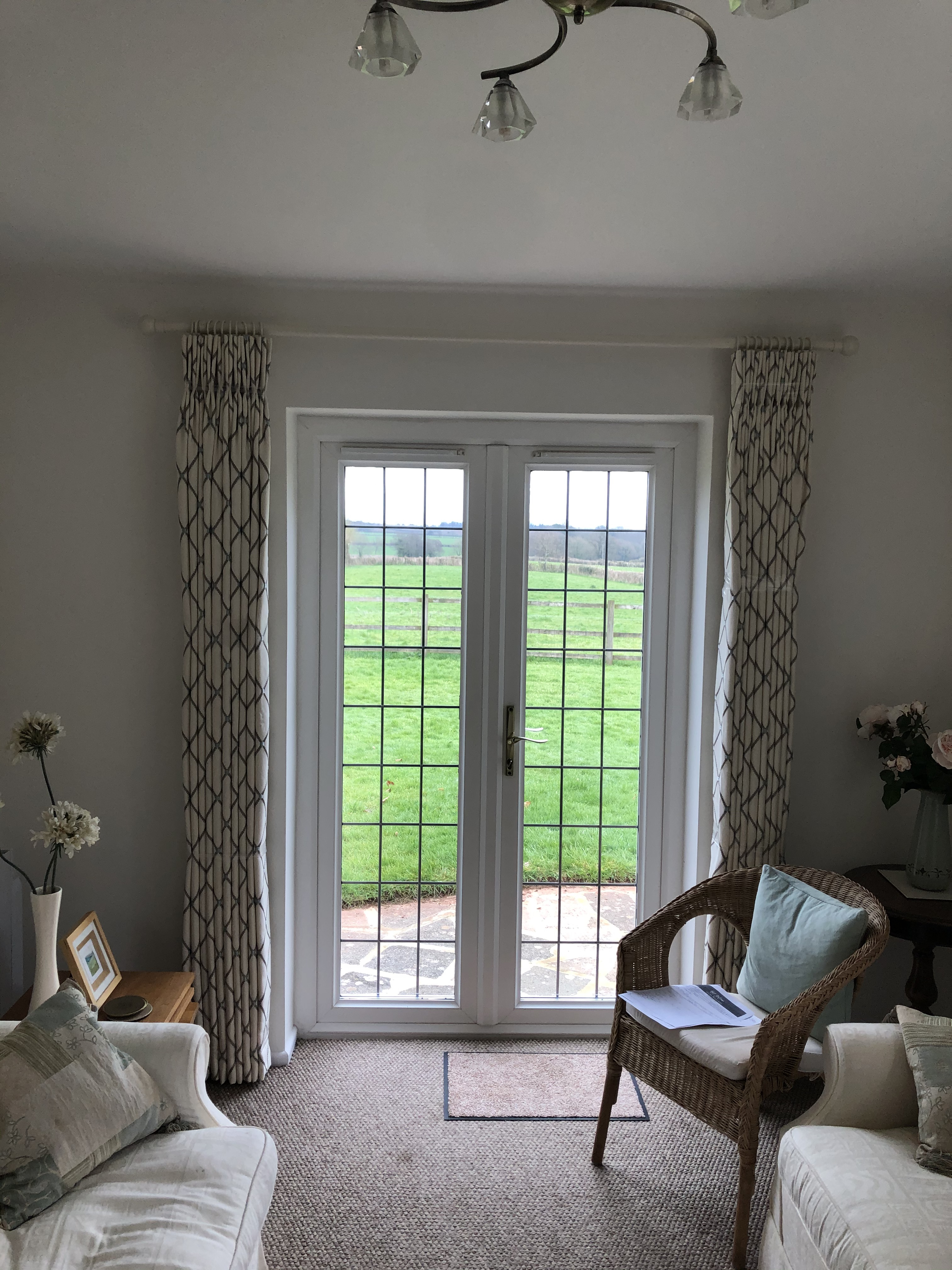 Window 6: Voile curtains on a wave heading and track
Fabric: Clarke and Clarke @ £58/m, 6m of fabric was required for this job
Track: £186
Making and sundries £232
Total: £766
Options that will increase the price: more expensive fabric, interlining, different heading
Options that will decrease the price: use an existing track, this is quite a simple window dressing, there is little else that can be done to lower the price